---
"I've never met a person who has been in Corning for the holiday season who didn't love it. It's a time of year everyone ought to look forward to." 
- Bill Boland, Mayor of Corning
---
Hey, my name's Emmie, I'm the Marketing Manager here at the Gaffer District and I want to share with you why Crystal City Christmas is so special and how you can enjoy the most wonderful time of the year in downtown Corning.
I actually grew up in the area and am a long time attendee of all things Crystal City Christmas. I've been to almost every Sparkle since I was in middle school, I've frequented The Parade of Lights with my friends, made a few visits to Santa's House when I was a kid, and always made sure to shop at my favorite local businesses for the perfect Christmas presents.
Visiting and exploring downtown Corning during the holidays has always been one of the highlights of the season for me, and I want you to have the opportunity to experience it for yourself.
So buckle up, I'm about to give you the inside scoop on how to experience the Crystal City Christmas Season in the Gaffer District so you don't miss out on anything!
 
Small Business Saturday: Saturday, November 26th 
presented by First Heritage FCU
The holiday season in Corning's downtown kicks off just two days after Thanksgiving with Small Business Saturday on November 26th. Small Business Saturday is a great way to show your local businesses some love and thank them for all they do for their communities. Don't forget to stop by Centerway Square between 10am and 3pm on Saturday to grab your "Shop Local'' bag that may have a gift card or coupon inside to use at one of the many amazing businesses in the Gaffer District! We guarantee with all of our small boutique shops, galleries, and restaurants, we know you'll find the perfect gift or gift card for everyone on your list!
The Parade of Lights: Saturday, November 26th
presented by First Heritage FCU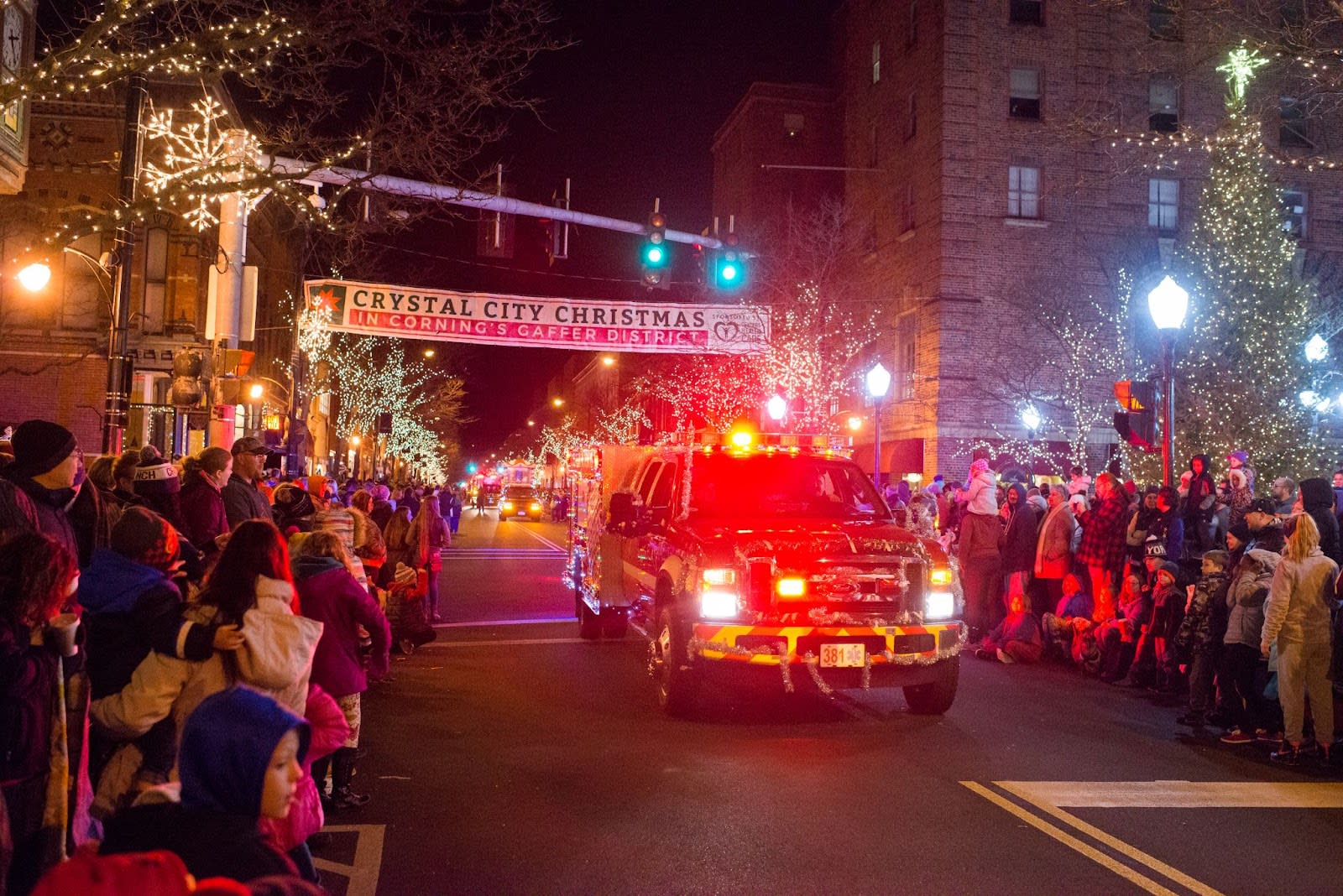 "The Parade of Lights is my favorite event during Crystal City Christmas. I love decorating my float and getting to see the joy on kids' faces as I pass them on the street. It's an awesome event that brings the community together." -Tammy Carey, co-owner of Carey's Brewhouse and VP of Operations & Sales at Access Computing
Just as Tammy said, the Parade of Lights is an awesome, community-centered event that brings the entire city together. With over 50 participants in the parade ranging from marching bands to dance groups to uniquely crafted floats that lead to the exciting arrival of Santa Claus on a horse-drawn carriage, it's a parade that is unforgettable and one that the whole family will enjoy.
The Parade of Lights will follow Small Business Saturday on November 26th with a start time of 7:30pm. We recommend planning a full day downtown filled with shopping all the Small Biz Saturday deals, grabbing a bite to eat at your favorite restaurant and ending the night with watching the Parade!
Pictures with Santa at His Crystal House
Don't worry! Santa isn't just swinging by the parade and leaving, he'll be back to visit throughout November and December at his Crystal House in Centerway Square so you can get your annual Santa pic, ask him all your dire questions and make sure you're on the nice list! Click here for all the dates and times of where you can catch a photo op with Santa himself!
Horse-Drawn Wagon Rides
The crowd favorite horse-drawn carriage rides are back again this year and you can find all the info on dates, times and locations here. 
Sparkle
presented by First Heritage FCU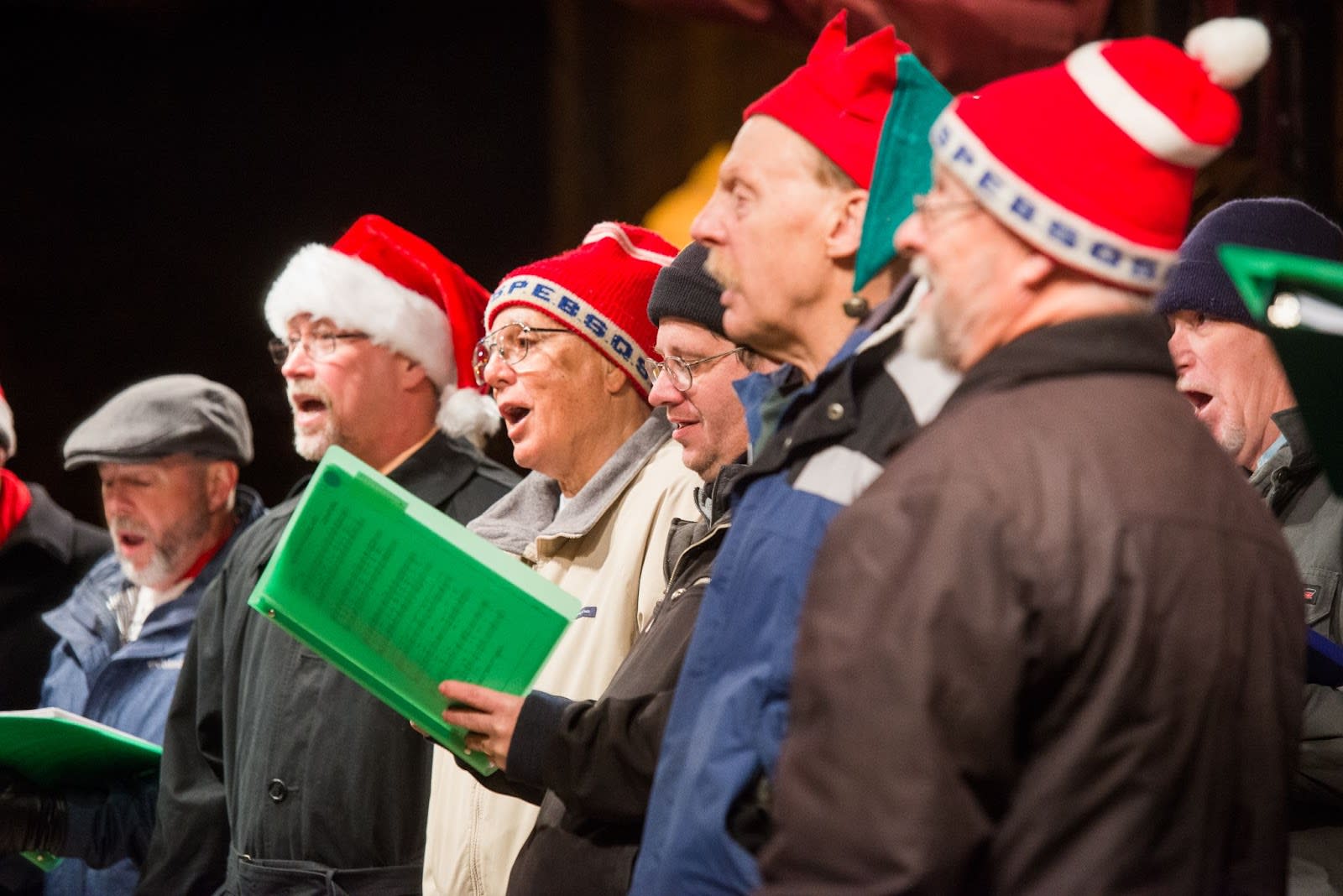 Have you ever wondered what it would feel like to be inside a snowglobe and experience the awe of the snow swirling around you as you take in the fresh, crisp winter air? Well, that's what many have used to describe the feeling they get when strolling through Corning's Gaffer District during the holiday season. On December 3rd from 5:00pm to 9:00pm, come experience the Hallmark-worthy landscape of downtown Corning yourself during the 47th Annual Sparkle.
Sparkle is an evening filled with friendly faces, delicious food, entertainment, on-street shopping and more. For more details on the event, click here.
Mark Your Calendars!
By now, you can tell that there is a lot to do in Corning's downtown during the holiday season! It's a time filled with tradition, memories, and celebration. 
So, what are you waiting for? Mark your calendars and join us this holiday season to experience Christmas as it should be in Corning's Gaffer District.