Did you know that the Gaffer District's Shop Local Summer Sidewalk Sales are happening in historic downtown Corning this weekend from Thursday, July 28th to Saturday, July 30th? I think we can all agree that shopping at your favorite boutiques is the perfect way to spend a day! But, do you want to know what makes your shopping experience in downtown Corning even better? If you said (or screamed) yes, read on because I have a list of five things you don't want to miss during the Gaffer District's Summer Sidewalk Sales!
Exciting news before you start reading: The Gaffer District will be handing out free "Shop Local" shopping bags in Centerway Square. Some of these bags will have gift cards from participating businesses while supplies last, so make sure to come early!
---
Music in the Square

A wise man once said that nothing adds to the vibrancy of a downtown more than live music (Okay, you caught me. That wise man was me!). Add a little bit of Corning's natural charm, and you can't help but say, "wow"! So, after you shop on Thursday, make sure to stop by Centerway Square from 6:00 pm to 8:00 pm for Music in the Square as the Gaffer District welcomes Curt Osgood, Henry Jankiewicz, and John Wobus to the stage.
---
Centerway Piano
Are you the type of person who lives for a spontaneous jam sesh? Well, the newly introduced Centerway Square piano offers the perfect platform for that! Take a break from shopping local and stop by Centerway Square to see if a local musician is filling downtown Corning with music. Could that be you? Don't worry, I think you're still a musician even if you can only play Hot Cross Buns!
---
Movie Night

After taking your kids shopping all day, you kind of owe it to them to do something fun (Don't worry kids, I got you!). What's more fun than a Drive-in Move Night in Corning's Gaffer District? Absolutely nothing (Disclaimer: I'm a little biased, but this statement is still probably true). Make sure to plan to cap off your day of shopping with our showing of Sing 2 in the Corning Credit Union parking lot. 
---
Dining in the Gaffer District
Is it just me, or does shopping make you extra hungry? To be honest, I probably just use that as an excuse to grab something to eat all the time. But, can you blame me? With over 45 restaurants in the Gaffer District, there's literally a place to get a tasty bite next to every store. So, make sure to come hungry when you visit the Gaffer District's Summer Sidewalk Sales this weekend!
---
Farmers Market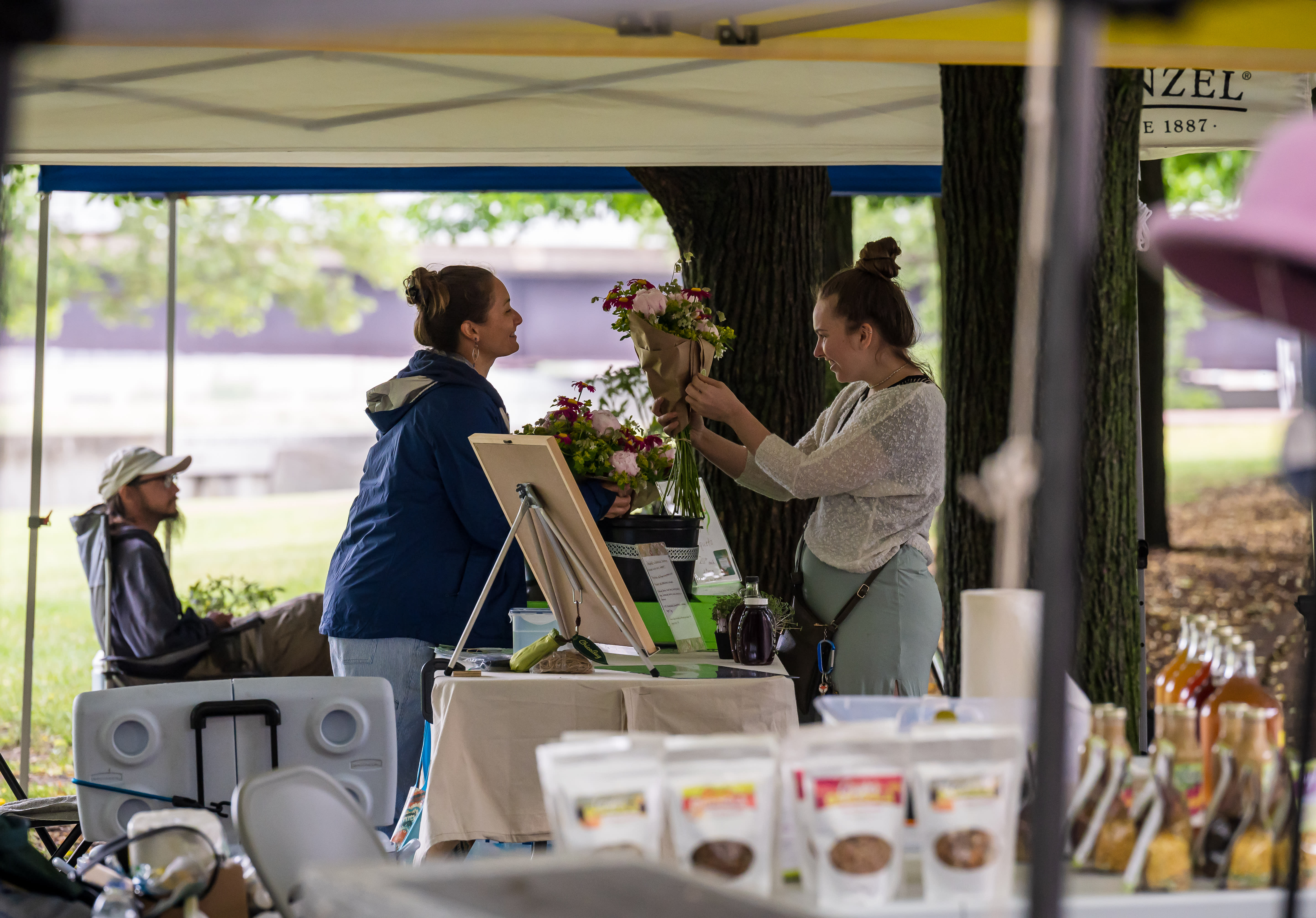 You have double the opportunity to shop local during the Gaffer District's Summer Sidewalk Sales. Make sure to stop by the Corning Farmers Market to discover anything your kitchen could be calling for, including freshly picked vegetables, grass-fed beef, bouquets of flowers, Finger Lakes ciders, handmade pottery, and so much more. Don't forget to stop by the Gaffer District information tent to say hi (Just so you know, I love a doughnut from Sunnyside Bakery!).